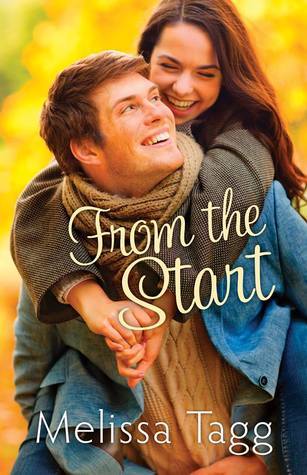 From the Start
by
Melissa Tagg
My Rating: 4 out of 5 Stars
My Review:
What do football and romance movies have in common? Well, you're probably thinking absolutely nothing! But Melissa Tagg has combined two complete opposites to make an endearing story that will touch your heart.
Kate Walker has been wounded by love yet she spends her life writing tv romances. When she hits a slump, she heads back home to see if she can figure out what's next for herself.
Colton Greene was a star quarterback in the NFL but when he is left with a permanent injury, he's unsure what's next in his life. He decides to hide away from the media in one of his friend's hometown while he decides what's next.
When Kate and Colton's lives connect, they find themselves working on a project that they both hope will lead them onto whatever is next for their lives. But what they don't expect is to make such a huge impact on each other. However, past hurts make it difficult for them to move on.
I really enjoyed Melissa Tagg's first series so I was really excited to dig into this novel. You should plan on reading Melissa Tagg's free e-novella Three Little Words because it will open up the scene for From the Start as well as provide you with an entertaining read! The characters that Ms. Tagg has created are so lovable and they become your family as you dive into their world. If you like contemporary romance novels then you will definitely enjoy From the Start!
I received a copy of this book from the publisher Bethany House in exchange for my honest review. I received no compensation for this review, nor was I required to write a positive review. All opinions stated are my own.
Thank you for taking the time to read my review! If you liked this review or if it was in any way helpful to you, please help me by:
Clicking "like" on this post
Clicking "like" on Goodreads
Clicking "yes" on Amazon
As always, I love to read your comments! So please leave a comment and share your thoughts.