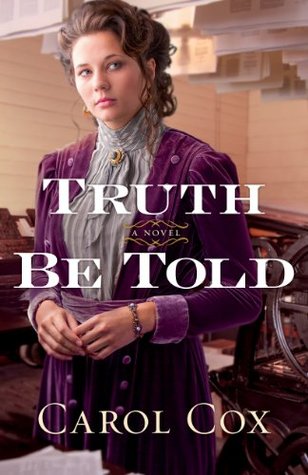 Truth Be Told
by
Carol Cox
My Rating: 4 out of 5 Stars
My Review:
I love the mysterious aspect to Carol Cox's novels. Mysteries have always intrigued me but for some reason I don't read a lot of them.
In Truth Be Told, Amelia is arrives in Arizona for what she thinks will be a nice visit with her father. But what she doesn't expect is to arrive and find her father on his deathbed and the newspaper now left in her hands. Amelia is determined to fulfill the motto of the newspaper in only telling the truth. What Amelia soon finds out is that she's been left with a big mess with the Great Western Investment Company. Her father wrote some articles that the company did not appreciate and now they want Amelia to print a reprieve. This sets Amelia off on the quest for the truth of what's really going on with the Great Western Investment.
Benjamin Stone has been tasked by the Great Western Investment to keep tabs on Amelia. As Amelia uncovers revealing facts about the Great Western Investment, Benjamin questions whether he is really loyal to his company.
An intriguing novel that will keep you on your toes and turning the pages until you know what's going to happen. The author did a great job of drawing you in. I have enjoyed Carol Cox's novels and look forward to seeing what novels she writes in the future.
I received a free ecopy of this book from the publisher through NetGalley in exchange for my honest review. I received no compensation for this review, nor was I required to write a positive review. All opinions stated are my own.
Thank you for taking the time to read my review! If you liked this review or if it was in any way helpful to you, please help me by:
Clicking "like" on this post
Clicking "like" on Goodreads
Clicking "yes" on Amazon
As always, I love to read your comments! So please leave a comment and share your thoughts.
Have you read any books by Carol Cox?
Do you enjoy mysteries?