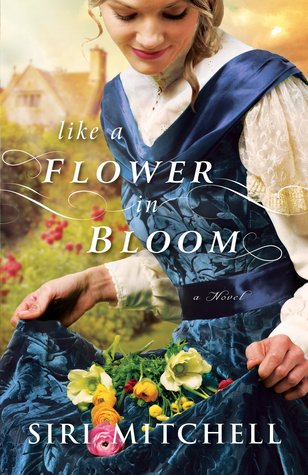 Like a Flower in Bloom
by
Siri Mitchell
My Rating: 3 out of 5 Stars
My Review:
Each Siri Mitchell novel brings a variety of entertainment. I love that all of her historical novels are based on different time periods. I have enjoyed her books very much and always look forward to her new releases.
Like a Flower in Bloom follows the story of Charlotte Withersby. She has assisted her botanist father for as long as she can remember and she absolutely loves her job. However, when her uncle and father decide that Charlotte needs to find a suitable husband, they hire a replacement for Charlotte. Charlotte is infuriated with not only her uncle and father, but also her father's new assistant who seems so intent on changing up everything. Charlotte and a friend come up with a plan to get her job back but her plan seems to backfire and Charlotte finds herself with a mess of potential suitors. But who truly holds Charlotte's heart?
This was not one of my favorite books by Siri Mitchell. Some of the characters kind of annoyed me – including Charlotte. However, it was very interesting learning about some of the history of botany and how so many people enjoyed it as a hobby. I loved the pictures this novel created in my mind as the flowers came to life and the smells invaded my senses. If only I had a bouquet of flowers sitting next to me as I read it!
Like I said, not a favorite, but this won't turn me off of Siri Mitchell's novels.
I received a free copy of this book from the publisher, Bethany House, in exchange for my honest review. I received no compensation for this review, nor was I required to write a positive review. All opinions stated are my own.
Thank you for taking the time to read my review. If you liked this review, or if it was in any way helpful to you, please help me by:
Clicking "like" on this post
Clicking "like" on Goodreads
Clicking "yes" on Amazon
As always, I love reading your comments! So please leave a comment and share your thoughts!
Have you read any Siri Mitchell novels?
What is your favorite Siri Mitchell novel?