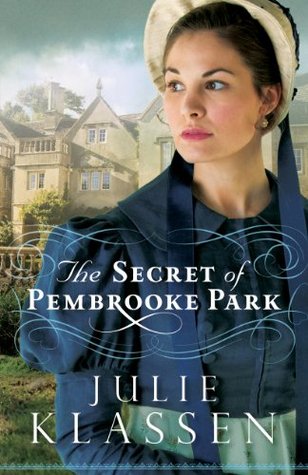 The Secret of Pembrooke Park
by
Julie Klassen
My Rating: 5 out of 5 Stars
My Review:
When reading a Julie Klassen book there is one thing I know for sure – it will not disappoint me. I have yet to read a Julie Klassen book that I didn't enjoy. The romance, the history, the mystery, the characters – they all add up to riveting tales that will captivate your heart. I have found myself speeding through each book, wanting to find out what happens next and other times slowing savoring each sentence, not wanting the story to end.
The Secret of Pembrooke Park was no exception to Julie Klassen's wonderful novels. Intriguing on every page, mystery surrounding each chapter, and I loved the cast of characters Julie Klassen created.
When the Foster's run into financial problems, they are forced to sell their home and find a new home to reside in. The Foster's receive a strange invitation to stay at Pembrooke Park which hasn't been lived in for several years. The Foster's accept the invitation and upon arriving realize that the house has been left in disarray and there is much work to be done to make it adequate for living in. Abigail soon hears whispers and rumors of the past occupants of the manor, including a secret room and hidden treasure. These rumors intrigue Abigail and she can't help but search for the treasure as she helps with the cleaning of the manor.
But it appears that Abigail is not the only one searching for the treasure as she hears strange sounds and sees mysterious shadows at night. The local curate also seems curious about Pembrooke Park and Abigail is curious to find out what kind of secrets he and his family know about the manor.
Every time I read a Julie Klassen novel, I know I'm going to be intrigued through the end. Just when you think you may have figured the "mystery" out, Julie Klassen throws a wrench in the road and you find yourself on a different path. I know that when I pick up a Julie Klassen novel, I am going to enjoy it no matter what. The Secret of Pembrooke Park is no exception to the magic that Julie Klassen can create. I very much enjoyed this novel, it will not disappoint you!
I received a free copy of this book from the publisher, Bethany House, in exchange for my honest review. I received no compensation for this review, nor was I required to write a positive review. All opinions stated are my own.
Thank you for taking the time to read my review. If you liked this review, or if it was in any way helpful to you, please help me by:
Clicking "like" on this post
Clicking "like" on Goodreads
Clicking "yes" on Amazon
As always, I love reading your comments, so please leave a comment and share your thoughts!
Have you read any Julie Klassen books?
What is your favorite Julie Klassen book?