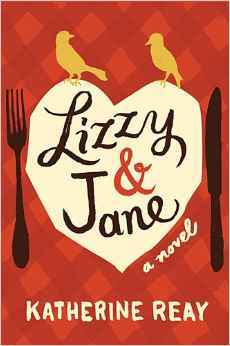 Lizzy and Jane
by
Katherine Reay
My Rating: 4.5 Stars out of 5
My Review:
Oh the feels this book can give! Katherine Reay has produced another winner and I suggest that if you haven't yet read one of her books then you find time to do so!  Katherine Reay has a unique voice in the contemporary world. I love the way her books have a Jane Austen theme to them.
Lizzy and Jane is the story of two sisters living worlds apart. After their mother died of cancer, they have become estranged. Lizzy – now Elizabeth – lives in New York where she is the top chef for a small restaurant named Feast. When Elizabeth starts struggling with her cooking, her boss brings in another cook to share the kitchen with her so Elizabeth decides to take some time off to rediscover herself. Elizabeth finds herself returning home to Seattle where Jane lives. Jane has been diagnosed with cancer so Elizabeth decides to stay for a while and help cook meals for Jane that she will be able to eat – and hopefully rediscover her magic with cooking. Not only does she help cook meals for Jane, but she starts cooking meals for other cancer patients as well. Elizabeth also meets Nick – the handsome family friend – and can't help opening up to him and his son, Matt. But Elizabeth is determined to return home and and follow her dream, but something about Seattle has gotten a hold of her heart and she is faced with the hard decision of whether or not to stay.
Not only does Katherine Reay write captivating reads, she creates loveable characters with real problems. She grasps the readers attention and doesn't let go until every word had been read. I also love the covers to her novels. It gives the characters a mysterious aspect since they are not shown on the cover. I highly suggest you enter the world of Katherine Reay. She is a wonderful writer and I look forward to reading whatever magic she produces in the future.
I received a free copy of this book from the publisher through Book Look Bloggers in exchange for my honest review. I received no compensation for this review, nor was I required to write a positive review. All opinions stated are my own.
Thank you for taking the time to read my review. If you liked this review or if it was in anyway helpful to you, please help me by:
Clicking "like" on this post
Clicking "like" on Goodreads
Clicking "like" on Amazon
As always, I love reading your comments so please leave a comment and share your thoughts!
*FOR A LIMITED TIME ONLY – GET THE EBOOK OF LIZZY AND JANE FOR $0.99!!!! ACT FAST! CLICK HERE NOW
Have you read either of Katherine Reay's novels?
Who is your favorite Jane Austen character?