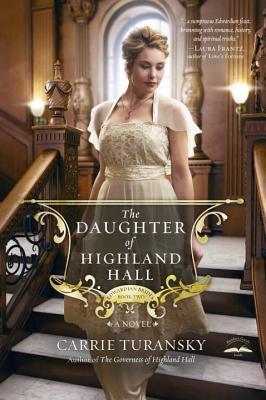 The Daughter of Highland Hall
by
Carrie Turansky
My Rating: 4 out of 5 Stars
My Review:
We were introduced to the world of Highland Hall in Carrie Turansky's first book of the Edwardian Brides series; The Governess of Highland Hall. In that book I fell in love with the characters and setting, feeling like I was transported to the world of Downton Abbey. In the second novel of the series, The Daughter of Highland Hall, we are reintroduced to Katherine Ramsey who has recently turned eighteen and is about to debut in society.
Under the wing of her overbearing aunt, Katherine hopes to obtain a proposal from a worthy gentleman. Her Aunt Louisa constantly pushes her toward Edward; handsome and wealthy, what more could she want? However, she is drawn to Jonathan's quiet spirit and his desire to serve the poor in the East End of the city. Her faith in God grows and as family scandals surface, Katherine isn't sure what her future holds. But as her Aunt tries to secure her future, Katherine soon learns only God can secure her future.
I loved stepping back into the world of Highland Hall. We had plenty of more scenes with Julia & William – the hero and heroine of The Governess of Highland Hall. This series is all very much related so if you haven't read The Governess of Highland Hall yet then I would strongly suggest doing so before picking up The Daughter of Highland Hill. You will appreciate the story so much more so if you do!
I received a free copy of this book from the publisher through Blogging for Books in exchange for my honest review. I received no compensation for this review, nor was I required to write a positive review. All opinions stated are my own.
Thank you for taking the time to read my review. If you liked this review or if it was in any way helpful to you, please help me by:
Clicking "like" on this post
Clicking "like" on Goodreads
Clicking "yes" on Amazon
As always, I love reading your comments! Please feel free to leave a comment and share your thoughts.
Have you read any of the Highland Hall books?
Do you watch Downton Abbey?
Do these books remind you of Downton Abbey?