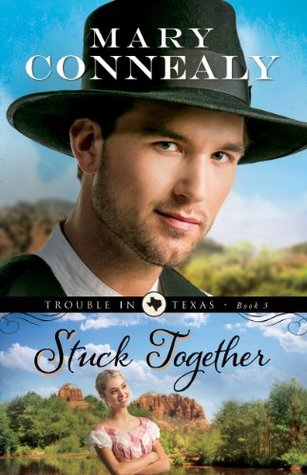 Stuck Togther
by
Mary Connealy
My Rating: 3 out of 5 Stars
My Review:
When you pick up a Mary Connealy book, you know you will be in for great entertainment. Stuck Together certainly gave that. Vince has starred in the previous two books of the Trouble in Texas series but Stuck Together gives him his own story.
Vince is the sheriff of Broken Wheel and he's known for not letting anything stop him. When his father, mother and sister come to town, his world is thrown upside down. His father is the same man he's always been – a scheming crook. His mother is showing signs of dementia. His sister – wait, he didn't even know he HAD a sister – is falling for one of his good friends.
Tina has recently arrived in Broken Wheel. She doesn't approve of the saloon in town and she's not afraid of voicing her opinions.
Vince has never seen such a pretty woman – but he can't get her away from all her causes.
Stuck Together will make you laugh, smile and sigh with happiness. Mary Connealy does a great job of creating stories with humor, adventure, romance and action. I loved the double-romance story in this book and thought it was a great ending to the series.
I received a free ecopy of this book from the publisher Bethany House through NetGalley in exchange for my honest review. I received no compensation for this review, nor was I required to write a positive review. All opinions stated are my own.
Thank you for taking the time to read my review. If you liked this review or if it helped you in any way, please help me by:
Clicking "like" on this post
Clicking "like" on Goodreads
Clicking "yes" on Amazon
As always, I love reading your comments so please leave a comment and share your thoughts!