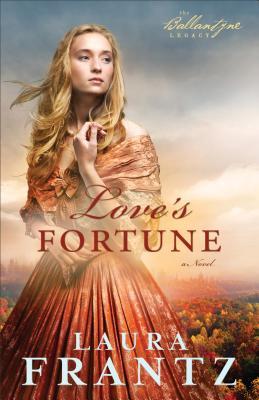 Love's Fortune
by
Laura Frantz
My Rating: 5 out of 5 Stars
My Review:
Ever since I read Love's Reckoning, I have anxiously awaited each new installment of The Ballantyne Legacy. These characters have become very dear to me and I have loved being a part of their lives and entering their world. I didn't think any of the books could be as good as Love's Reckoning by Love's Fortune blew me away and I think it took it's place as my favorite book of the series.
Love's Fortune follows the story of Wren Ballantyne, granddaughter of Silas and Eden Ballantyne. Wren has grown up in a sheltered home in Kentucky. She knows little of her family in Pittsburgh other than that her grandfather possesses a great fortune. When her father is called to return home, Wren is swept away into the riches and chaotic world of Pittsburgh.
James Sackett is a steamship pilot for the Ballantyne's shipping line. He is held in high esteem by all of the Ballantyne family. When Wren rides as a passenger on one of his trips, he can't help but be intrigued by this silent beauty.
James is chosen to escort Wren through her season in Pittsburgh but will Wren ever find a way to fit in to the high society around her?
Wren is such a loveable character and I couldn't help being drawn to her and sympathizing with her as she entered an unknown world. I loved her sweet nature and innocence.
James was definitely a swoon-worthy hero. I loved his attraction to Wren and kept hoping he would voice it to her, but of course, dear Laura drew the anticipation out.
Ms. Frantz, thank you for creating such beloved characters. I look forward to reading these books over and over again. They have most certainly earned a permanent spot on my shelf.
I received a free copy of this book from the author and publisher, Revell, in exchange for my honest opinion. I received no compensation for this review, nor was I required to write a positive review. All opinions stated are my own.
If you liked this review, or if it was in any way helpful to you, please help me by:
Clicking "like" on this post
Clicking "like" on Goodreads
Clicking "yes" on Amazon
As always, I love reading your comments. So please leave a comment and share your thoughts!