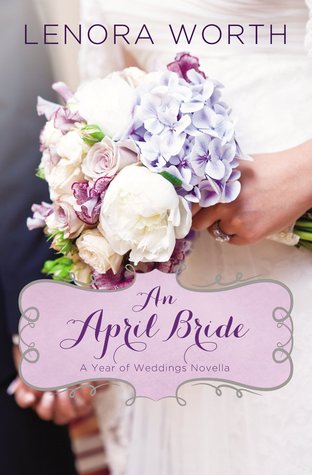 An April Bride
by
Lenora Worth
My Rating: 4 out of 5 Stars
My Review:
After Marshall is injured overseas, he returns home to fight his head trauma. Stella hasn't seen her fiancé in a long time and she can't wait for him to return to Louisiana just four weeks before their wedding. But as Marshall suffers from post-traumatic stress syndrome, Stella is worried Marshall will never be the same. Feeling like Marshall no longer wants to marry her, they both prepare themselves for calling off the wedding.
Another great addition to A Year of Weddings novellas. An April Bride tugs at our heart strings and Marshall and Stella both suffer in different ways from Marshall's head injuries. I enjoyed reading about this cast of characters and being a part of their world. Their struggles were real and their love was sweet. This book was definitely worth picking up and reading.
I received a free ecopy of this book from the publisher, Zondervan, through NetGalley in exchange for my honest review. I received no compensation for this review, nor was I required to write a positive review. All opinions stated are my own.
Thank you for taking the time to read my review. If you liked this review, or if it was in any way helpful to you, please help me by:
Clicking "like" on this post
Clicking "like" on Goodreads
Clicking "yes" on Amazon
As always, I love reading your comments! So please leave a comment and share your thoughts!