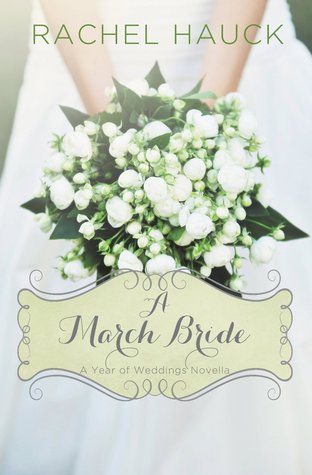 A March Bride
by
Rachel Hauck
My Rating: 4 out of 5 Stars
My Review:
Many of us met Susanna and Nathaniel in Rachel Hauck's Once Upon a Prince. I would definitely recommend reading that book before this novella because you will understand a lot more of what is going on in A March Bride. I actually started reading this novella without realizing it was a sequel to Once Upon a Prince but I was excited to dive back into the world of these beloved characters.
Susanna has been caught up in a whirlwind of royalty as she plans her wedding to King Nathaniel. Susanna begins to doubt whether Nathaniel really loves her and she starts to feel like she can never fit in with all the royalty around her. Wanting to sort out her feelings, she returns home to rediscover her identity. Fearing she won't return, Nathaniel follows after her. Will Nathaniel win Susanna's heart for good?
Fans of Once Upon a Prince will not be disappointed with this sweet sequel. I felt the story did a great job of answering some questions and tying up things after the first novel. I am so glad I picked this story up and am looking forward to reading more from this author.
I received a free ecopy of this book from the publisher, Zondervan, through NetGalley in exchange for my honest review. I received no compensation for my review, nor was I required to write a positive review. All opinions stated are my own.
Thank you for taking the time to read my review. If you liked this review, or if it was in any way helpful to you, please help me by:
Clicking "like" on this post
Clicking "like" on Goodreads
Clicking "yes" on Amazon
As always, I love reading your comments! So please leave a comment and share your thoughts!