Too many books, too little time.
That's my thought this Thursday. My to-read pile keeps growing taller and my time to read keeps getting shorter.
I'm in the middle of finals for two of my classes. I take two 8-week classes at a time and these two classes will be done next Friday before getting a week off. (Yay Spring Break). I have papers to write, exams to take, quizzes to study for, and textbooks to read. How I wish I could use this time to be reading! But alas, I'm afraid school is taking the top priority for the next week.
I'm currently reading The Falcon and the Sparrow by MaryLu Tyndall whenever I have a free second but as soon as I'm on break I'll be reading Forsaken Dreams by MaryLu Tydall. I'm so excited about that book! I have heard a lot of good things about the book 🙂 I wanted to start it as soon as I got it in the mail but since I am going to be reviewing the book, I knew it needed more attention than what I can give it right now.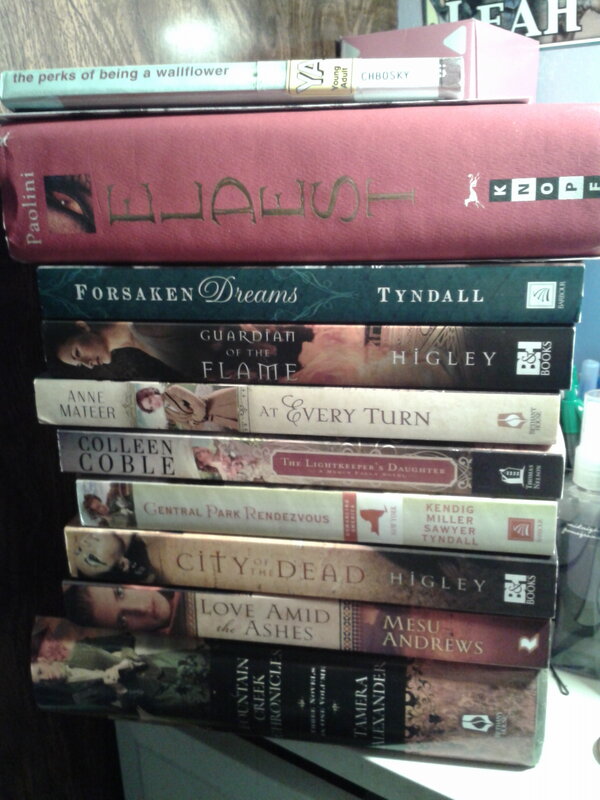 This picture is only half of my pile. I have about 10 more hidden in my nightstand and I got about 5 more in the mail today (courtesy of my boyfriend insisting on buying me a few books :]). I am so excited to read all of them but sometimes I wonder if I'll ever find the time!
So what about you? How do you find time to read? Do you have a lot of books in your to-read pile? What books are on the top of your to-read list?